The MDHearing VOLT MAX is a promising hearing aid. Let me explain. In the last few years, hearing aid companies have introduced different technologies. There are smart hearing aids that allow you to control your hearing aids with a smartphone app. Then you've got self-fitting hearing aids, where you personalize your devices with your smartphone. Other hearing aids automatically adjust to your environment. And while we've seen these exciting technological advances, there hasn't really been a hearing aid that offered all those functions at the same time.
Until now, hopefully.
The first impression for the MDHearing VOLT MAX is excellent. At first glance, this hearing aid ticks every box: a rechargeable smart hearing aid with self-fitting abilities that automatically adjusts to your environment, comes from a reputable company, and has an attractive price tag of around $700.
Sounds too good to be true? We'll see. In this MDHearing VOLT MAX review, we'll scrutinize all these promises and see how the hearing aid holds up. I'll take you through key features, pros and cons, and discuss alternative hearing aids to consider. Lastly, I've got a quick visual review for you at the bottom of this page.
The MDHearing VOLT MAX was picked as the best value hearing aid in 2023.
Links in this article pointing to another website might be affiliate links. If you purchase something on those websites, I could receive a small commission. This doesn't affect your price nor my review.
Key features 
If I'd have to pick one key feature, it's that the VOLT MAX combines every other feature into one device. There's nothing we haven't seen before. There are other self-fitting hearing aids, hearing aids with a rechargeable travel case, and hearing aids that automatically adjust to your environment. However, previous models would lack one of those options, so the fact that the VOLT MAX lacks 'nothing' (more on that later), is its main feature.
Other features worth mentioning are the excellent support by the company (lifetime US-based support), and access to experts through video calls. It makes buying a hearing aid just a little easier.
Who is this hearing aid for?
The MDHearing VOLT MAX is for anyone who's been waiting for a direct-to-customer hearing aid with fewer compromises on features. If you're looking for a direct-to-customer hearing aid that gives you a great hearing aid for a good price, the VOLT MAX is also a good choice.
How well does the MDHearing VOLT MAX work?
I've gone over the features above, but then there's the behind the scenes of the hearing aid. Here, everything checks out, too. You get two microphones on each device, giving you better sound and directional sound. The hearing aids adapt to your environment, but also give you control through the app. Sound comes to you with advanced feedback cancellation and all the expected bells and whistles. Charging the travel charging case overnight gives you three full charges of 15 hours each on your hearing aids – an impressive battery life.
Lastly, I want to mention the support around buying the MDHearing VOLT MAX. You get the usual 45-day trial and free shipping, but also get an onboarding service (aside from the self-fitting technology), and video calls with US-based support in case you need help.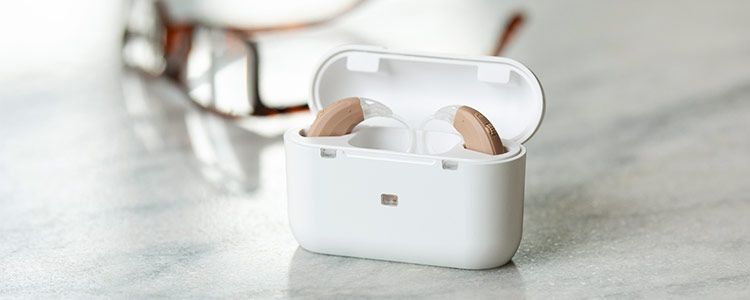 What's not to like about the MDHearing VOLT MAX?
So far, the MDHearing VOLT MAX has seemed perfect. And I truly believe it's great.
But while there are no features missing, there are some next-generation features that other models do have. The VOLT MAX is not waterproof. If you're outdoorsy, this means it's worth looking into the Neosonic MX-RIC or the Eargo NEO 6. Those models have their own downsides, but could be a better fit.
Additionally, this model does not stream sound from your phone to your hearing aids. This isn't a common feature and as of now, I'm still waiting for the first hearing aid to really combine this feature with an impressive hearing aid.
Lastly, the charging case is rather unimpressive. Technically, there's nothing wrong with it, but it looks like the cookie-cutter case you find on the Banglijian BLJ-707 – a discount model. Compared to the Neosonic B10 or Neosonic B20, for example, I feel MDHearing could have done more here.
None of these features are true downsides, so unless you're specifically looking for those next-gen features (and are willing to pay for it), don't let it stop you from buying the VOLT MAX.
Alternatives for the MDHearing VOLT MAX
In June 2022, the MDHearing VOLT MAX is the best non-prescription hearing aid on the market. But I don't want to leave you without any options, so I do have some alternatives.
First, the Lexie Lumen, a hearing aid with possibly more possibilities than the VOLT MAX, accompanied by its bigger brother the Lexie B1. Then there's the Neosonic MX RIC, the former best hearing aid. I've mentioned it above, as it's waterproof. Other than that, the MX RIC doesn't have any of the smart features. It's plenty smart, but doesn't connect to your phone. The Otofonix Groove does have these smart functions, though. It is also more expensive than the MDHearing VOLT MAX.
The Eargo 6 is in a league of its own. It offers every single feature the MDHearing VOLT MAX has, and is so waterproof it can be submersed in water. It's also over 4 times as expensive ($2,950 for the Eargo).
Should you buy the MDHearing VOLT MAX?
Absolutely. And if this is the first review you're reading on my website, you may wonder if I'm always this excited and positive. The answer is no, I'm not – I was sorely disappointed by all other MDHearing models, and I'm sure MDHearing will wait too long to replace this one, too. Right now, it just feels as if the VOLT MAX is the model I've been waiting for for a while. The VOLT MAX combines great technology, a good price, and offers good support from a company that's been around for a long time.
How much does the MDHearing VOLT MAX cost?
Prices for hearing aids can change any minute, but for now the VOLT MAX is about $700 a pair.
How big is the VOLT MAX?
This device is about as wide as a normal pencil, and about .75″ tall.
Can I pay in installments?
Yes, MDHearing uses Affirm – the minimum payment is $59 for twelve months (with no interest).
What is the difference between the MDHearing Volt+ and the VOLT MAX?
The MAX in the name seems to refer to this model's smart features: self-fitting technology and app-controlled volume settings and listening modes. You connect this newer model to your smartphone, whereas the normal Volt+ only features recharging technologies.
Is the MDHearing VOLT MAX a hearing aid or a hearing amplifier?
The difference between hearing aids and hearing amplifiers is diffuse and at times difficult to understand. The FDA has been working on over-the-counter hearing aids for years, and in the meantime, direct-to-customer hearing aids and personal sound amplification products have popped up. Technically, the MDHearing VOLT is a direct-to-customer hearing aid. On this website, I like to differentiate between prescription and non-prescription hearing aids.
What other models does MDHearing have?
While the VOLT MAX is the company's flagship model, it offers other models, too. The MDHearing AIR is a lighter model, while the most popular model is the MDHearing NEO (read the MDHearing NEO review here)